These Christmas gifts for vegans are unique and cruelty-free!
Christmas shopping can be stressful in the best of times, so I thought I would help you with this list of unique Christmas gifts for vegans. What's unique about these gifts? Every single one was made by hand, in small numbers, by gifted artisans. In addition to being cruelty-free and not made with any animal-sourced materials, these gifts support small businesses and budding entrepreneurs.
Etsy is THE best source of unique Christmas gifts!
If you've been a reader of the blog, you know I'm a big fan of Etsy. Etsy is an online platform that brings together entrepreneurs from all around the world. Artists and artisans create their own shop from which you can buy unique handmade Christmas gifts for everyone in your family. As an example, check out their editor's pick of gifts for every budget.
12 handpicked, unique Christmas gifts for vegans… and non-vegans alike!
If, like me, you are looking for vegan gifts this Christmas, it can be a little difficult to sort through all the stores on Etsy. This is why I came up with this hand-picked list of 12 unique vegan Christmas gift ideas. Essentially, these gifts will please pretty much everyone, even non-vegans! And in the process of picking gifts for your family and friends, you will be sure that no animals were harmed.
Christmas gifts for vegans who are oh! so fashionable #1: Cowl in chunky vegan yarn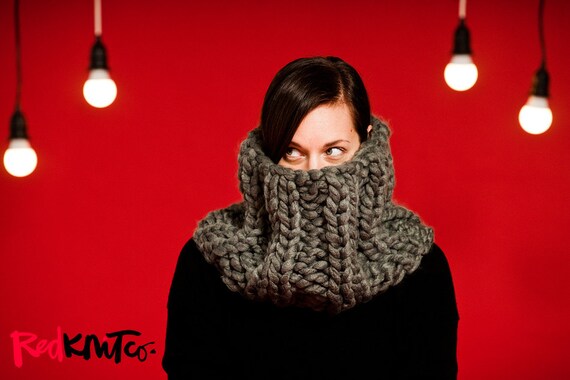 Elizabethan collar cowl in chunky vegan yarn

As the days become cooler, everyone seems to naturally gravitate towards knits. There's something warming about any chunky, large piece of knitted clothing you can wrap yourself into.
I love this cowl in chunky vegan yarn, I could just see myself heading out in the snow without a worry in the world with this beautiful cowl around my neck.
I also love that Coralee, the owner of the shop, only sells items made from vegan yarn, which is not always the case for other knitters.
Don't think your friend, girlfriend, or sister would like a cowl? The shop also offers a small selection of hats made with vegan yarn.
Christmas gifts for vegans who can't stay out of the kitchen #1: Vegan egg alternatives kitchen towel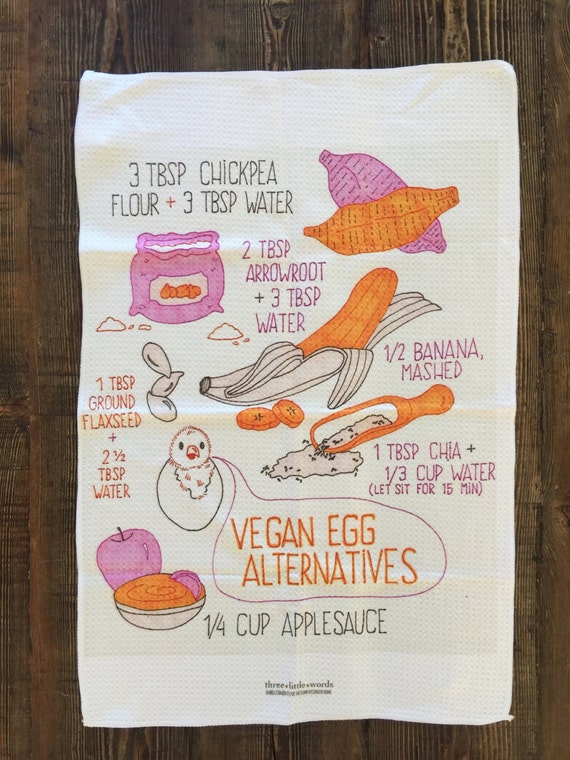 Vegan egg alternatives kitchen towel

Kitchen towels are always useful, but instead of gifting something generic, why not offer a truly unique vegan Christmas gift with this vegan egg alternatives towel? I immediately feel in love with this item when I found it.
Vegans have many options to replace eggs in cooking and especially baking. So it's nice to have a little kitchen accessory to remind us of some of the alternatives, in a cheeky and colorful way!
Feel free to browse the Sanctuary Vegan shop for other designs and accessories such as tote bags and mugs. All with vegan-related designs, all original.
Christmas gifts for vegans who can't stay out of the kitchen #2: Rustic "Vegan Kitchen" sign
Know someone who recently became vegan and has adapted their kitchen to their new diet and lifestyle? Why not offer them a unique "Vegan Kitchen" sign so visitors know they are entering a meat-free environment?
This sign was made using wood from reclaimed old pallets, so it has a rustic style to it. It adds a nice, earthy touch to any kitchen decor.
If you would like the sign to be made with another typo, or are looking to customize the writing even more, feel free to contact the seller. This is the beauty of Etsy. There are real people behind the gifts and most sellers are more than happy to make your special vegan gift truly unique!
Christmas gifts for vegans who need a little zen in their lives #1: Vegan wax holiday christmas candle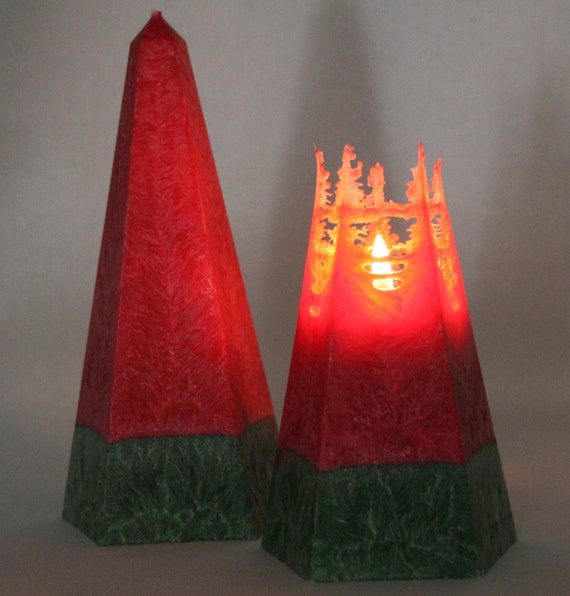 Vegan wax holiday Christmas candle

I have featured these candles in another post on vegan Mother's Day gifts, and I was very happy to see that the store now has a Christmas version of their famous pyramid candles.
These candles are peppermint-scented and have the amazing features of burning for up to 55 hours! Yup, that's not a typo, they last more than 55 hours!
I had asked the seller a little while back what "vegan wax" meant, and she replied that she uses vegan palm wax.
The best part about these candles is the intricate shapes and designs they create while burning, a little bit like a work of art. While you are not burning the candle, it still makes a beautiful object to display on a shelf.
Christmas gifts for vegans who love to wear their conviction #1: Silver vegan symbol necklace
Jewelry is always a safe bet, even as a Christmas gift. This piece of jewelry is not only beautiful, it is shaped in the vegan symbol and hangs on a silver necklace.
While it is discrete and elegant, it also allows the person wearing it to make a statement: I'm vegan!
The necklace is made with 925 sterling silver and has an emerald-colored stone in the middle of the V.
Any new vegan will proudly wear this beautiful piece of jewelry, and even long-time vegans will love the opportunity to wear their conviction around their neck! Personally, I find the "vegan" sign to be very feminine and delicate. I'd love to get this necklace for Christmas (hint hint to my vegan boyfriend, LOL).
Christmas gifts for vegans who need a little zen in their lives #2: Luxury vegan bath and shower products in gift box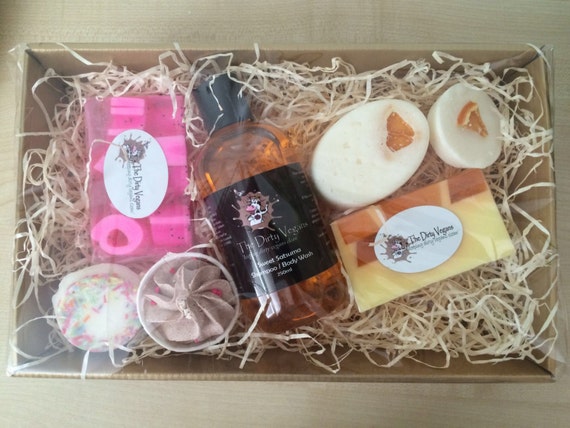 Luxury vegan bath and shower products in gift box

Do you have a vegan person in your life who you never really know what to buy for? If ideas are failing you, here's a little idea that can never go wrong: get them a gift basket!
This first gift basket is filled with luxury vegan bath and shower products, and comes already wrapped in a gift box. Who doesn't like bath and shower products, right?
The gift basket includes a soap, bath bomb, bath melts, shampoo and other products made with natural ingredients such as cocoa butter, almond oil and avocado oil.
The only challenge with this gift will be to not keep it for yourself once it arrives!
Vegan Christmas gift ideas that can't go wrong: Vegan food gift basket
OK, if the first vegan gift basket idea didn't seem right, how about a gift basked filled with all kinds of vegan foods and treats?
Vegans typically love discovering new food products, and this basket has them all: chips and treats, chocolate, nuts, but also a marinade, vinegar, gourmet olives… If it's tasty, delicious and vegan, it's in this basket!
Now, the items from this basket come from the UK, so they might not be easy to find afterwards in the US, for example. But who wants to receive a gift basket filled with items they can buy at the corner store anyways?
Once again, try not to keep this basket for yourself once it arrives… Christmas shopping is hard, I know!
Vegan Christmas gift ideas for the newest member of the vegan family: Vegan leather baby moccasins
Do you know a couple who just welcomed a wee little vegan in their lives, or are the proud parents of a thriving little vegan baby? Why not get them something absolutely to die for, without any animal having died in the process?
These vegan leather baby moccasins are not only cute, they are also cruelty-free. Red is not your color? They come in different colors, from gold, to pink, to black and even white. I just thought red was perfect for Christmas!
Sizes available go from 0-3 months, to 24 months. The only thing I am left wondering is why they don't make these for adults? Now that would be a perfect vegan Christmas gift idea, right?
Christmas gifts for vegans who are oh! so fashionable #2: Monogram vegan leather purse
I wrote, a few months back, a post on high-end vegan handbags, because I believe that investing a little bit in a purse is a way not only to get quality items, but also lessen the environmental impact of vegan leather.
If I had found this monogram vegan leather purse before, I think I would have included it in my post. The design, for one thing, is classic, as are the colors. But this purse can be a really unique vegan gift when you ask the seller to put the initials of your gift recipient on the side, in the monogram.
The monogram adds a touch of class, as does the tassel accent. This becomes the perfect purse for an afternoon in town, a trip, and the size of the purse is perfect to carry important items such as your cell phone, small umbrella (in case of rain), scarf (for the cooler evening), wallet, etc.
Christmas gifts for vegans who need a little extra warmth #1: plaid blanket scarf
Researching items for a Christmas list is risky. Some vegan Christmas gifts are so perfect, you might end up buying one for yourself.
That's what happened with this beautiful plaid blanket scarf. The seller, Ayse from Viola's Boutique, makes these amazing, large scarfs in acrylic, yet they look warm and cozy just as if they were made from soft wool. I simply couldn't resist, I ordered one to wrap myself in during cold winter days.
Scarves are an easy item to give to anyone, especially when they are available in so many colors, patterns and models. Looking for something offering a bit more coverage? The store also carries a wide selection of reversible ponchos. For one low price you can feel like you are giving two new fashions accessories to your favorite vegan!
Christmas gifts for vegans who need a little extra warmth #2: chunky knit socks
Did you ever receive socks at Christmas? My grandmother always gave us a new pair every year. As a kid, I used to think it was the worse gift ever, but as an adult, I'm always looking forward to getting a new pair!
These knit socks are made using a vegan yarn, and they can double as slippers, or just be worn as a second pair of socks on really cold days. Vegan yarn is typically very soft, yet warm, without the itchiness of wool.
You can go wrong with gifting someone a really nice pair of socks, especially when they were handmade. If like me you can't knit to save your life, the next best thing is finding beautiful handmade knitted items to give to family and friends!
Christmas gifts for vegans who love to wear their conviction #2: "You are what you eat" t-shirt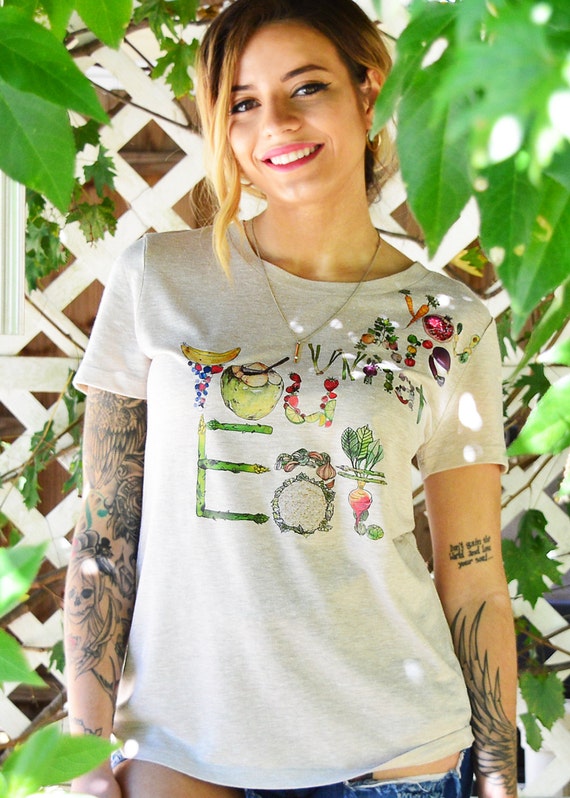 "You are what you eat" t-shirt

I've done my fair share of research for unique vegan t-shirt designs, but I could not help including this original, colorful and cheeky "You are what you eat" vegan t-shirt in my list of Christmas gifts for vegans.
Anyone can slap a vegan slogan on a t-shirt and sell it, but this t-shirt's design required a little bit more work and artistry. The letters are all built using fruits and vegetables (although vegans eat more that just fruits and veggies, we tend to eat lots of them!).
The t-shirt is made using organic cotton, which is also a better choice for the environment (cotton being one of the crops that uses the most amount of pesticides).
I truly hope that these 12 unique Christmas gifts for vegan gave you a few ideas going forward to cross items off your shopping list. Don't forget to order ahead, as some items are made to order and will require a few days, sometimes weeks, to be delivered.
&
12 unique Christmas gifts for vegans