14 Great Romantic Gifts for Vegans on Valentine's Day
I hadn't planned for such a long time away from the blog, but I love that 2016 starts with a top-ten list of romantic gifts for vegans!
I've been itching to write again for a while now, but I have another personal project that is keeping me busy mornings, evenings and weekends, leaving me with little extra time to blog. I will write about this project soon, because it's pretty cool, but for now let's focus on finding the perfect Valentine's Day gift for that special someone.
I know that Valentine's Day has received bad press for being too commercial, less and less about love. I agree that you cannot show your appreciation for your significant other only one day out of the year, love is all about these little daily gestures you do for one another. But there's nothing wrong with spoiling your vegan boyfriend, girlfriend, wife or husband a little bit on February 14. And boy have I found some really great vegan Valentine's Day gifts! Let's get started.
My Selection of Romantic Gifts for Vegans
14. Raw Vegan Chocolate Box
No list of romantic gifts for vegans would be complete without chocolate. This is beautiful box of 24 chocolates that are not only vegan, but also raw. And the best part is that you get to choose from 11 yummy flavors including dark chocolate with figs, ginger, chili and black pepper, dark hazelnut praline, dark and white chocolate with strawberry, almond and vanilla, to name only a few. You can contact the seller to ask for gluten-free or nut-free chocolate, although they are made in a kitchen where ingredients containing gluten and nuts are used. There are plenty of other options in this store if you want a larger or smaller box, or even heart-shaped chocolates. Perfect for the sweet-tooth vegan in your life!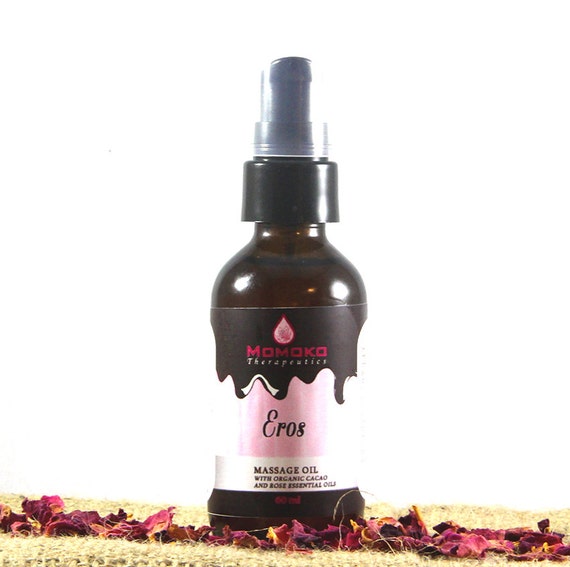 Eros aphrodisiaque massage oil

13. Eros Vegan Massage Oil
My boyfriend and I love giving each other massages. More often than not, it is a great way to reconnect and relax after a long day at work. Massages can also be very sensual, and a small amount of massage oil will not only facilitate the movements, it will also rehydrate the skin and release a therapeutic aroma.
This oil combines floral South African bourbon rose geranium essential oil with the aroma of vanilla and cacao for a truly romantic experience. The base is organic grapeseed, apricot kernel, sunflower, and jojoba oils to nourish the skin without leaving it feeling greasy.
Don't forget: with massage oil, a little goes a long way!
Vegan Bath Bombs (2 x Strawberry, 2 x Dozen Roses, 2 x Valentine Cookies)
12. Vegan Bath Bombs
Another great way to spend quality time with that special someone is to take a relaxing bath together. You could go for vegan bubble bath, but why not try these exquisite bath bombs instead. I love bath bombs, you drop them in the water and they fizz away, releasing their aroma and essential oils.
I read somewhere that LUSH cosmetics was the original inventor of bath bombs, but these are pretty much available anywhere now. This gift set includes six bombs that come in three sexy flavors: strawberry (while you're sipping champagne), dozen roses (you can combine with actual rose petals in the bath for a voluptuous effect) and valentine cookie (in case you're into something sweet).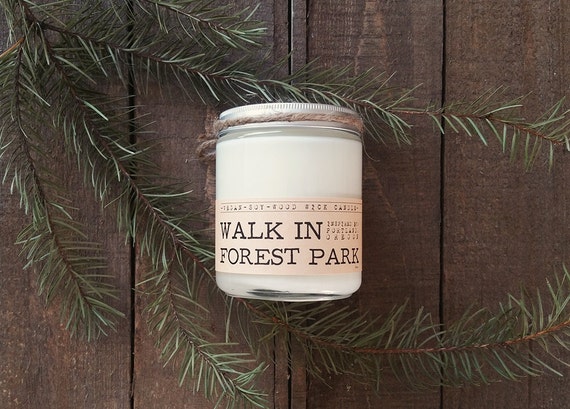 Walk in the forest park soy candle

11. Walk in the Forest Park Soy Candle
Romantic vegan gifts can also be something you buy to create an ambiance for a wonderful vegan dinner at home. Afterall, who really wants to fight the crowds and lineups in busy restaurants. And nothing says ambiance like scented candles. One has to be careful though, because some scented candles can overwhelme your senses, but I'm pretty sure this one will do the opposite. It's a soy-based candle that releases a gentle smell of fir trees and fresh dirt after the rain. You know that smell, right? You can light it and remenisce of that long walk you took together at the park one summer evening, hand in hand, gazing into each others eyes. You're thinking what I'm thinking, right? Dinner just turned into a picnic in the living room, sitting in front of the fireplace 😉 Now that's romantic!
10. Vegan Leather Whip
There's nothing wrong with THAT kind of romance, a little playful time between two consenting vegans can be the highlight of an evening. Obviously, you would not want to include real leather into the picture, as you understand very well all the violence behind the making of animal skin into shoes, jackets and accessories. This seller has many toys for the adventurous vegan, including this very affordable vegan leather whip. The material used is called Lorica, it's a microfiber vegan leather that is very durable, while being soft and enjoyable to the touch (you'd want that, right?). Go ahead and check out the store, I won't tell anyone 😉
9. "Eat Me, Not Animal" Panties
This is definitely a gift for vegans with a sense of humor. I laughed so hard when I came across this item, showed it to my boyfriend and he also thought it was clever.
These panties are available in black or in white as a thong. If you have a non-vegan boyfriend in your life that you are trying to convince to adopt a vegan diet, maybe this pair of panties is just the way to go about it 😉
Garanteed smiles!
8. Vegan Ring
I have a personal story related to this very vendor. When I started dating my vegan boyfriend, I wanted to find a gift that would remind us that it's veganism that brought us together (we met through a local Facebook group for vegans – but that's another story!). I found this aluminum ring on Etsy and ordered two: a wider one for my boyfriend, and a narrow one for me. I did not need to know his exact ring size, because the ring is open and will adjust to the size of the finger.
I also asked the vendor for a favor: to etch the date that we had our first date on the inside of the ring, which he kindly did at no extra charge.
We both love our vegan rings, they remind us of the strong ethical bond that brought us and keeps us together.
7. Heart-Shaped "Vegan" Necklace
Maybe you're not ready for a ring yet, and you feel it would make too strong of a statement. There are plenty of other jewelry options on Etsy, including this beautiful heart-shaped necklace with the inscription "vegan" inside. The heart is in recycled sterling, so it's even better: your gift is unique AND environmentally-friendly gift!
Check out the other necklace styles in the store, as there is a great selection of either animal-shaped or rectangle "tag-like" pendants sporting all kinds of messages about veganism and respecting animals.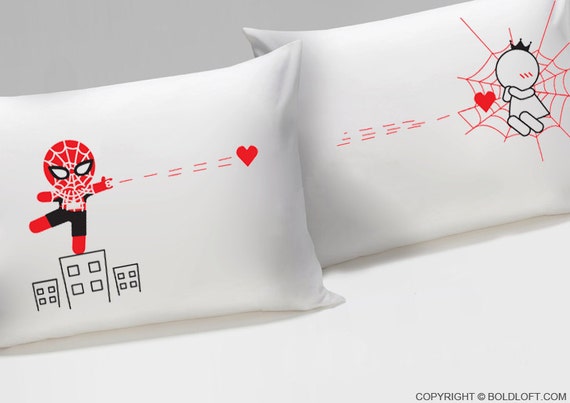 Captured by your love – his and hers pillow cases

6. Captured By Your Love Pillow Cases
Now how cute are these? A set of his and hers pillow cases with one featuring Spiderman, and the other, a damsel in distress saved by the web! The pillow cases are in cotton and fit most standard and queen-size pillows (not included in the purchase).
There are several other cute his and hers pillow case designs in this store, but if you have a vegan superhero in your life, I think this set is a winner! In black and red on a white background, they can fit pretty much any decor. And how sweet is this quote from the site: "I am captured by your love and enticed by your tenderness. You've shown me someone who can face the world and you're not afraid to be real, and most of all I love the way you live life with zest and zeal!" Awwww!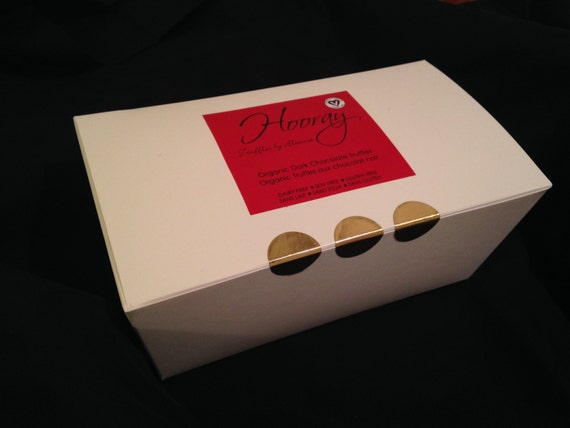 Organic vegan chocolate truffles

5. Vegan Chocolate Truffles
I know I already have chocolate in this list of romantic gifts for vegans, but these are vegan truffles! These truffles are not only made rich with the use of organic coconut milk, they are also super healthy and do not contain any allergens. Instead of using refined sugars, the chocolates are sweetened with Medjool dates (my favorite).
And to top it off, because these truffles are already all that, you can count on the ingredients all being organic, GMO-free, and fairtrade. Woah! Indulging never felt and tasted so good 🙂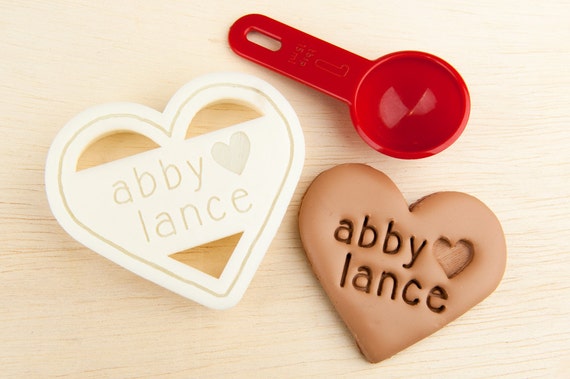 Personalized heart-shaped cookie cutter

4. Personalized Heart-Shaped Cookie Cutter
If you love to bake, and want to treat your loved one with delicious vegan cookies, here's a fun way to make them unforgettable! This personalized heart-shaped cookie cutter will enable you to embed your name and the name of your vegan sweetie in your cookies. For a one-time gift, it can seem a bit expensive, but if you are celebrating Valentine's Day with your vegan fiancé, this item can be easily reused to make personalized vegan cookies as parting gifts for the guests at your wedding.
How's that for thinking ahead?
3. Vegan Apron
So you have both decided it would be smarter to stay in and cook for Valentine's Day and avoid the pricy option of dining out. Good for you! A romantic dinner at home has many advantages: no reservations needed, no noisy dining neighbors, no wait for the staff to finally bring out that lukewarm meal you ordered 40 minutes ago, and you can take as much time as you want to eat.
But no respectable vegan chef would chance dirtying a special shirt with tomato sauce splatter or oil from that sauté. To cook with a purpose and stay clean in the process, I find this vegan apron to be particularly clever. Even better if the chef has this apron on, and nothing but his boxers! Now that's vegan love.
Yummy Earth Valentine Organic Pops
2. Valentine's Organic Vegan Pops
Maybe you'd like to spread a little Valentine's Day cheer around school or the office? Why not get this bag of 30 organic vegan pops, with a Valentine's sticker for each pop! The pops are made with organic fruit juice and are about as healthy as candy can be. They are made in a dairy and tree nut and peanut-free facility, so they are safe for even the most restrictive environments. Flavors include pomegranate pucker, wet-face watermelon, strawberry smash, goofy grape, very cherry.
They had me at wet-face watermelon. Yum!
1. Vegan Heart-Shaped Doggy Treats
What if your Valentine this year stands on four paws and gives you unrelenting love, no matter what you are wearing on the date? That's quite OK, but it doesn't mean you cannot treat your furry friend with something special. Here is a heart-shaped box of vegan dog treats, guaranteed to satisfy the sweet tooth of your canine companion. These are handmade treats with human ingredients. They contain no soy, no salt, no sugar, no artificial colors, no artifial flavors, no byproducts and no preservatives.
The box contains about two dozen hearts.
Romantic Gifts for Vegans