Vegan T-Shirt Designs to Wear Your Convictions with Style!
You've seen the classic vegan t-shirt designs over and over. You want to stand proud of your convictions and wear them for everyone to see, but you would never be caught dead wearing a "Kale Yeah I'm Vegan" t-shirt. Well, this post of for you. The good news is that there are so many truly original vegan t-shirt designs out there, it was really hard to pick only ten!
10 Unique Vegan T-Shirt Designs
10. Cows Love Vegans!
My first find was this really funny t-shirt: how cute is that cow! This design is available in several styles and colors, both for men and women. You don't care for another white t-shirt? No problem, you can order this shirt in bright orange with long sleeves!
I think that turning cows into sympathetic characters goes a long way when you are trying to let people know that these beautiful animals are also sentient beings that deserve to be treated with respect.
The artwork designer has a bit of a sense of humor. For every shirt sold, he will consider not eating a burger that day. Why not flood him with requests for this funny shirt so he reconsiders his meal choices permanently? One can only hope!
9. Vegan Chick
This is an adorable design for the vegan ladies. Make an affirmation of your vegan identity while giving people a chance to smile at the bright-eyed, innocent, and sweet lady chick in the design. For any cool and stylish vegan girl, this is a great shirt to wear casually.
This is another design that can be ordered in various styles and colors. I think the black & white t-shirt brings out the colors in the design, but you can order this shirt with the sleeves in a multitude of bright colors as well, or even as a short-sleeved shirt.
The store has a multitude of other "chick" designs based on profession or interest. I even found a camping chick shirt! Hmm, maybe I could get a vegan camping chick shirt? Now that would be unique!
8. Say "Tofu"
Women's Say Tofu T-Shirt in Blue

Here's one of my favorite funny vegan t-shirts: it replaces the classic "say cheese" with "say tofu", while a cute penguin holding a camera seems to be ready to shoot a picture! This design caught my attention because although it does not say "vegan", it's a reminder of how dairy products are embedded in our lives and traditions.
Although the t-shirt model shown is for women, there is a t-shirt for men with the same design (same price!), and you can also find this t-shirt in a variety of colors. There is however only one style available.
I like the idea of replacing "say cheese" by "say tofu" when we take photos, as you'll have everyone displaying a sexy pout instead of a forced grin!
7. Thanksgiving Shirt – Don't Eat Me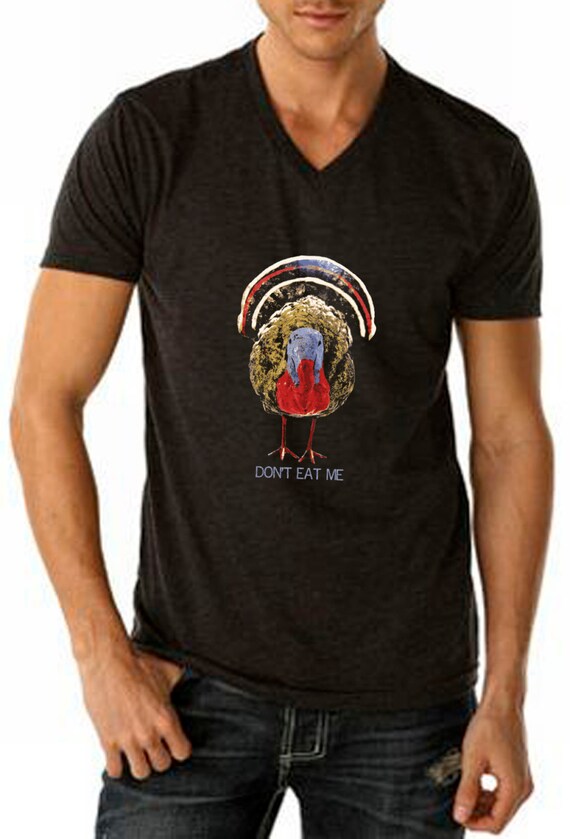 Thanksgiving – DON'T EAT ME t-shirt

As soon as we hit September, it's really only a few weeks until Thanksgiving! For vegans, Thanksgiving can be a stressful time, not only as we are reminded that 45 million turkeys will be killed for this holiday only, but also as we try to navigate dinner invitations with family and friends who do not share our lifestyle.
This cute vintage looking t-shirt is a perfect reminder to the omnivores around us that turkeys (heck, all animals for that matter) do not want to die. With the words "Don't eat me", the message comes from the perspective of the animal and is quite powerful.
If you do not want a black t-shirt, I have seen other colors by searching around the store.
6. Periodic Table of Vegan
Periodic Table of Vegan T-Shirt

I'm a bit of a nerd (love The Big Bang Theory show!!), so when I saw this t-shirt, not only did I know I had to include it in the list, but I also ordered one for myself! The design is quite clever, as it recreates the regular periodic table of elements (you know, the one you had to study in chemistry class) but with its own legend and each element replaced with a vegan food. For example, white elements are vegan staples and Ni (normally stands for Nickel) is Nutritional Yeast in this table. On the site, you can see a close-up of the table.
With this ingenious t-shirt design, you never have to answer the dreaded question "but what do you eat?" again!
5. Friends, Not Food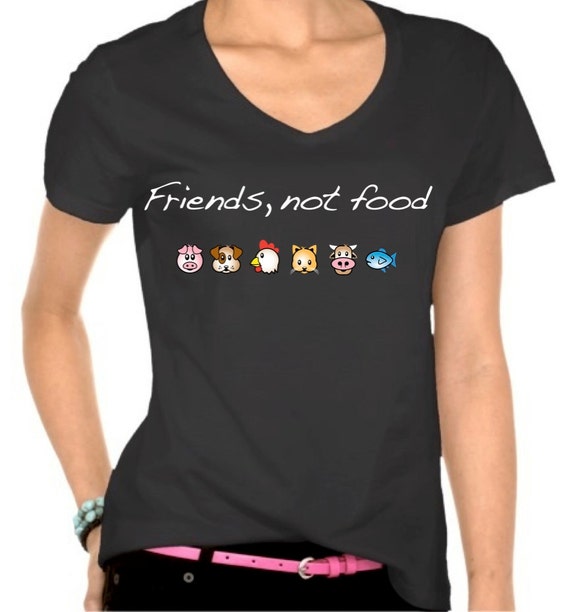 Friends Not Food with Animal Emoji Faces

OK, the "friends not food" tagline has been overused in vegan t-shirt designs, but I liked this design because it uses emoticons you find on your smartphone to depict the animals that people typically do not consider "friends", while still including our typical "friends", the dog and the cat.
This t-shirt is also available for men, and both the women and men styles are in black. I like that proceeds from the sale of this t-shirt will go towards the annual VegFest in Guelph, Ontario (September 20, 2015). Hurry up to not only get yourself this great conversation starter, but also to support one of the many vegan festivals popping up world wide. These festivals do make a difference in getting people to rethink their lifestyle (it's not just vegans who attend). A few weeks ago, I was chatting with a guy who decided to become vegetarian after attending the Montreal Vegan Festival, and he is now considering become vegan!
4. Real Men Chop Onions
This is one of my favorite designs because I guess it hits close to home. I love cooking, and so does my boyfriend, who is also vegan. But the one part of prep that always makes me cringe is chopping the onions (and let's be honest here: onions are in everything!). My eyes are really sensitive and they burn when I chop onions, even the mildest ones! So when we cook together, I'll ask my boyfriend (nicely, with a big smile) if he can "take care of the onions". And although chopping onions also makes him tear up, he'll do it.
So if you have a man in your life who is strong enough to chop the onions, this is a great t-shirt to show him that you recognize all the courage and manliness it takes to conquer those bad boys. A fair warning: you might however have to fend off suggestions that onions should be chopped with a pirate sword! Yarr!
3. We Are Someone, Not Something
I'm pretty sure anyone following the news has heard about the lion Cecil that was killed by a sportshunter in Zimbabwe in July of 2015. That news started a tidal wave of outrage, petitions, and even threats against the man who killed Cecil, as everyday folks could not believe such a beautiful creature could meet such a gruesome ending.
I don't know about you, but as a vegan, I shook my head at these reactions. Yes, sports hunting is wrong, but to be fair, Cecil probably lived a nicer life than the 56 billion farm animals that are killed EVERY YEAR for human consumption. These animals do not have nice lives, they live in hell until the moment they are slaughtered brutally and packaged as drumsticks, chops and steaks.
This t-shirt, with an intricate design that puts side by side the animals we farm and hunt, and the meat and food and clothing products they become, will remind people that there are far more "Cecil" creatures that we should fight for and petition for. All animals, if they were named, would maybe become "someone" in the eyes of folks, and not "something" they eat without a second thought.
2. Don't Stay Calm Go Vegan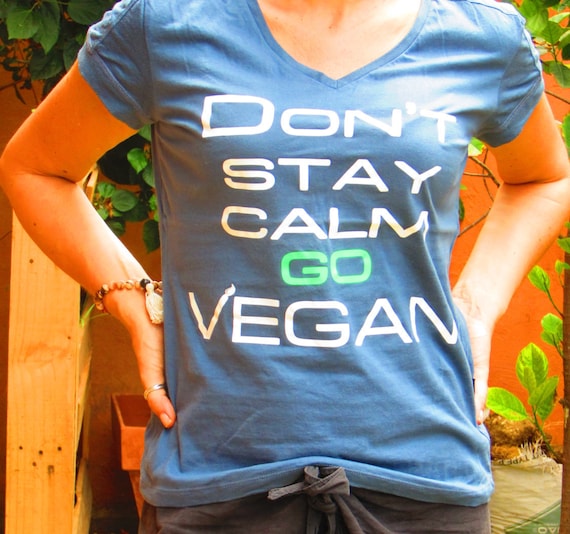 Don't Stay Calm Go Vegan T-Shirt

I love this t-shirt, as its message is a nice rebuttal to the infinite variations of the "Keep Calm and…" t-shirts we find at every street corner. Staying calm is accepting the status quo, and going vegan is quite the opposite! So express your outrage at the common way of doing things with this clever t-shirt. After all, how can vegans stay calm as they become very aware of the social, environmental, and ethical impact of a traditional animal protein-based diet?
This t-shirt is for women and the store does not have an equivalent model for men. However, and this is the beauty of ordering from Etsy, I am sure you could contact the store owner and ask for this model but in a men's t-shirt.
1. This Body is Vegan Owned and Operated
This is one of the many cool vegan t-shirts for the athletic vegans out there. Help break the stereotype that vegans are scrawny-looking folks and flex your vegan muscles in this t-shirt that says, at the front, "This body is…" and at the back "vegan owned and operated".
The store, cleverly called Meat Rehab, also had this design on other types of shirts, as well as tank tops for women.
10 Unique Vegan T-Shirt Designs