10 Great Vegan Father's Day Gifts Dad Will Love!
I always found it difficult to shop for my dad, but finding vegan Father's Day gifts was relatively easy when I did some research on Etsy. Etsy is a fantastic source of handcrafted gifts made by artisans from around the world. This year, instead of giving dad an impersonal, mass-made trinket, why not give him something original and that required no animal to suffer in its making!
Vegan Father's Day Gifts Dad Will Love!
1. Exfoliating Soap
Here is a bamboo charcoal soap made with rice milk. This soap is also enriched with coconut oil and olive oil, and does not contain palm oil. Although sometimes sustainably sourced, regular palm oil production is responsible for the destruction of many key natural habitats around the world, threatening entire ecosystems as well as animal species such as the orangutan. Click here to read about the impact of palm oil production.
The bamboo charcoal powder is the exfoliating ingredient in the soap, it helps remove dead skin cells and clean the skin thoroughly.
&
&
2. T-Shirt for the Activist Dad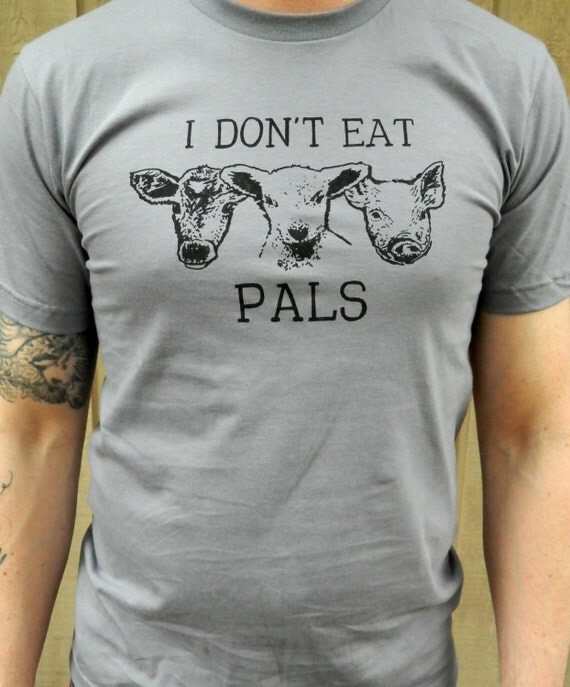 "I don't eat pals" Vegan T-shirt

Is dad a bit of an activist? Is your husband a great vegan dad who has had enough of answering the question "why vegan?" every time he meets someone new? There are so many cool vegan t-shirts available online, the challenge is to pick the right one for your man. It's also easy to find many t-shirts made with organic cotton or bamboo, so you can feel good about giving a gift that is also environmentally-friendly!
Out of inspiration for that "perfect" vegan t-shirt? Why not look at our list of 10 unique vegan t-shirt designs for other amazing ideas.
&
&
3. Hair Pomade
It's easy to find a pomade at the drugstore, but have you ever wondered what kind of ingredients are used in those mass-market products? Here is a natural vegan hair pomade made with soy wax, castor oil, candelilla wax, jojoba oil, avocado oil and essential oils for a manly scent. Perfect to keep dad's hair in place and hydrated at the same time (no harsh chemicals in this baby). Despite being a wax-based pomade, it apparently washes out easily. For compassionate, and stylish dads!
&
&
4. Beard Kit
Beards made a comeback in the past few years, and many dads are sporting full-facial hair. Let's make sure dad takes good care of his beard with this beard kit containing a eucalyptus bar soap and beard oil. All products from this vendor are handmade and do not contain palm oil! Feel free to browse around the shop for other vegan Father's Day gifts, but beware that the beard wax they sell contains beeswax (and is therefore not vegan).
&
&
5. Men's Hand Cream
Does your dad do a lot of handywork around the house or work with his hands? Help dad keep his skin moisturized with this unscented vegan pumpkin hand cream designed especially for hard-working hands. Itchy, dry skin is uncomfortable, and this product will go a long way to soothe dad's hands, without him smelling girly! Handmade, filled wit organic and fair trade products, this is one gift both dad and you will feel good about. And look: the vendor even redesigned the label so it would appeal to men! Go forth and hydrate!
&
&
6. Classic Brown Belt
Every guy needs a solid, basic belt for his wardrobe, but most belts will unfortunately be made of leather. Well, not this vintage look, brown vegan belt from couchguitarstraps. Made with boutique vegan leather, a steel buckle and hardware, heavy duty industrial thread and reinforced steel eyelets, this is one solid belt that any dad will appreciate, whether he is vegan or not! While you are visiting the store, feel free to look at other belt models and their wide selection of quality vegan products such as guitar straps, camera straps, and much more. The prices are also very reasonable, especially considering that these products are all handmade!
&
&
7. Vegan Wallet
This is another fantastic item from the couchguitarstraps store. Once again handmade in the United States (cruelty-free for both animals and humans!), this heavy-duty vegan wallet is designed to withstand everyday use. And you cannot go wrong with the price, considering a cheaper wallet, made from animal skin, usually in dire conditions in a sweatshop somewhere around the world will often cost you more than this beauty. Encourage a local artisan without compromising on your vegan values and quality. I bet you'll spend a few minutes exploring the other products from this awesome vendor for more vegan Father's Day gifts…
&
&
8. Men's Cologne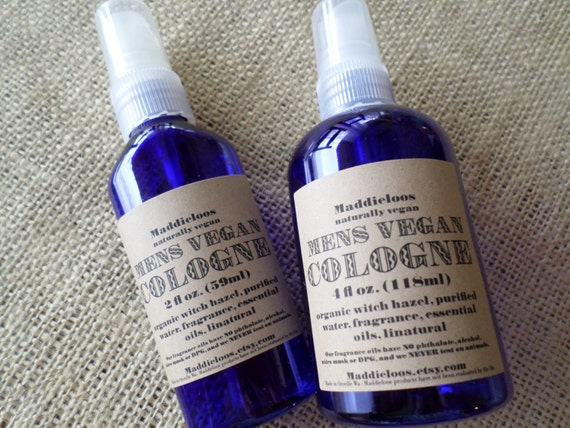 Vegan Cologne (28 scents available)

Did you know that commercial colognes are often composed of harsh chemicals that are potentially dangerous for your health? The cosmetics industry is very loosely regulated, resulting in unsafe products making their way into our bathrooms and onto our bodies. Why not buy dad a cruelty-free, vegan cologne that will not only leave him smelling divine. but also keep him out of harm's way? The vendor Meddieloos has a vegan men's cologne that comes in 28 different scents. I really like the different names they gave to the scents. How does dad feel these days? Like "The boss", a "Secret Agent", or a "Rockstar"? Every scrent is a different combination of natural oils.
&
&
9. Shaving Kit
Shaving is part of most dad's daily ritual, why not make it an exceptional experience with this handmade shaving kit composed of a shaving brush and shaving soap presented in a beautiful tin. Most shaving brushes are made with badger hair, but this brush is made with a soft nylon that is meant to imitate the texture and softness of badger hair… without all the cruelty!
The brush is hand turned and made of ash. The shaving soap is also vegan, and smells of peppermint and eucalyptus. Want dad to feel great and fresh after his daily shave? This is the vegan Father's Day gift for him!
&
&
10. Vegan Laptop Bag
Let's face it: most laptop bags look pretty dreadful. This bag however is both very practical and modern looking! Made of faux leather, vegan leather, as well as robust cotton canvas, the bag can fit up to a 15″ screen laptop and has interior pockets for all of dad's other devices. The bag is padded to protect its content, and the interior pocket is lined with nylon to prevent moisture from getting in. A sleek design, I really like that it can also be worn as a backpack. In additon to protecting dad's laptop, it will also protect his back!
&
&
Top 10 Vegan Father's Day Gifts